These awesome lights instantly change the mood of your car! Simply plug into your cigarette lighter/12v socket and pick your colour. Adjust the lights to the sound of your music, or use them independently. These lights will make any car the life of the party! ❤️
EASY INSTALLATION!
The Car Interior LED Lights are a set of four strips of LED lights that can be easily installed around your car. These lights are installed with an adhesive strip on the back for a hassle-free easy installation. They can be installed on the underside of your glove compartment or steering wheel, on the sides of your car, on the ceiling, or on any other surface!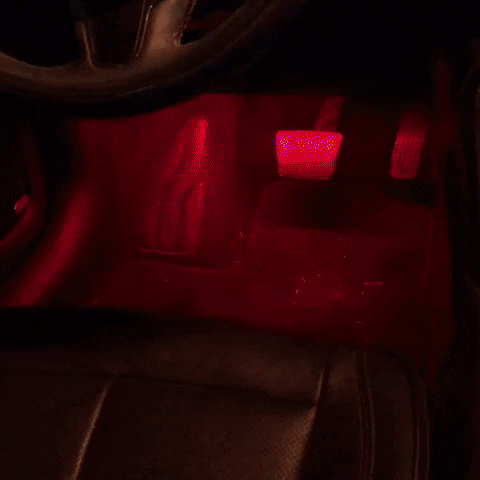 FEATURES!
EASY TO INSTALL: The Car Interior LED Lights are very easy to install. They come with an adhesive sticker on the back so that you can install them easily with no damage to your car at all. To install, simply clean the place of installation thoroughly with some alcohol before sticking the lights firmly. With that, you're done!
REMOTE-CONTROLLED: The Car Interior LED Lights to come with remote control for the lights and a control box for the music. With these two devices, you can control the music and the lights from the comfort of your seat. There is no need to toggle with the lights themselves at all!
ATTRACTIVE: The Car Interior LED Lights come in a multitude of colours that is sure to tickle anyone's fancies. The lights come in white, red, blue, green, light blue, orange, yellow, pink, and purple.
CUSTOMIZABLE: Add a touch of your unique personality into your car with these Car Interior LED Lights! Why settle for a boring, old car when you could have a flashy and bright car all for yourself, right?
PACKAGE INCLUDES
4 x Car Interior LED Lights
1 x Remote Control
1 x Cigarette Lighter Charging Cable
1 x Music Control Box.
Please connect the App as below:
(1) Download the App "LotusLanternX" by scanning the QR code on the controller or search for "Lotus Lantern" in the app store.
(2) Turn on your phone Bluetooth.
(3) Open APP and connect the light.
Note: Please connect Bluetooth in APP instead of mobile phone settings.